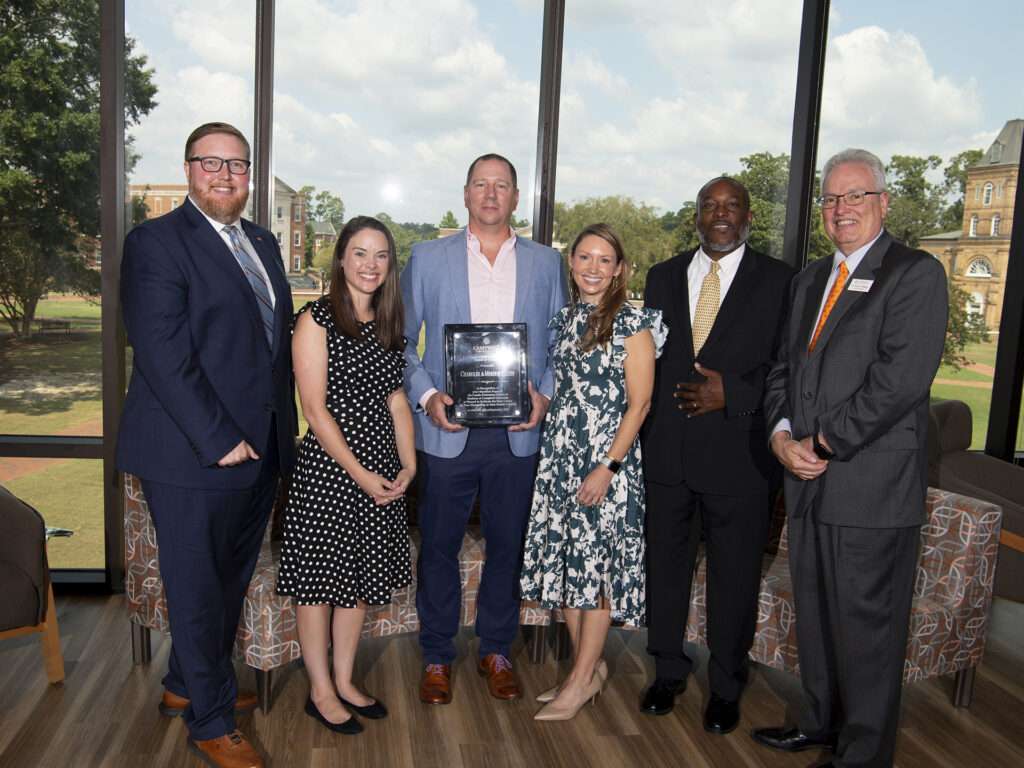 SEPTEMBER 22, 2022
Published by Campbell University
The Lundy-Fetterman School of Business announced the establishment and naming of the Rose Center for Peer Mentorship at a luncheon during last week's Leadership Summit. Because of the generous support of Meredith and Chandler Rose of Raleigh, the announcement culminates over a decade of programmatic mentoring within the school.
Fifteen years ago, the School of Business introduced Campbell University's inaugural first-year seminar and incorporated peer mentors as the cornerstone of the program. The program has shown that peer mentors can play an important role in the psychosocial development of new students, helping them find belonging and develop a sense of community and identity. Mentors help connect new students tangibly to campus resources and provide an important source of encouragement.
On Sept. 7, the University's Board of Trustees unanimously approved a resolution to name the Rose Center for Peer Mentorship in the business school in honor of Meredith and Chandler Rose, for their support of the program and for their steadfast commitment to Campbell students.
"You cannot talk about college today without mentioning the word 'fit.' The Roses 'fit' here at Campbell," Nathan Rice, Director of Development for Institutional Advancement, said at the dedication ceremony. "They, like their businesses, are driven by the mission to 'multiply [their] blessings' and their core values, including 'grace through generosity' and 'we before me.' These values align seamlessly with not only our institution at Campbell, but with the Center for Peer Mentorship."
Meredith Rose, group chief design and marketing officer for Rosewood Family of Companies, infuses the company's vision of "multiplying their blessings" by incorporating Rosewood's core values and promoting purpose-driven initiatives to create a work environment that encourages professional growth and a spirit of excellence.
"We all have something to give, whether it is words, time, knowledge, money or even your influence," she said. "By giving, you are opening the doors for a young student to have access to new opportunities, to new insights, to learning and to grow and develop themselves. We believe the Rose Center for Peer Mentorship does just this. These mentors take their time, their experience, their knowledge and their connections and share them with the new first-year students to give them the chance to have the most fulfilling first year as possible. What a way to multiply your blessings."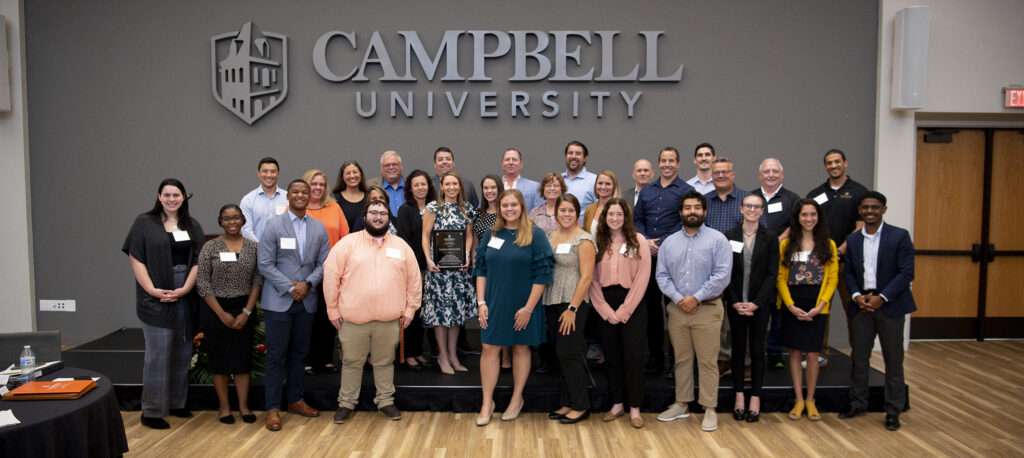 Meredith Rose is a graduate of the University of Georgia and serves on the School of Business' Advisory Council.
Chandler Rose, group chief executive officer for Rosewood Family of Companies, said he strives to infuse a values-centric culture across his business. His passion for "doing your best each day with what you've been given" has inspired him to create companies that are not only successful but also uphold values and integrity first and foremost. He has established a measure of success that focuses on giving back to communities and allows employees to better themselves personally and professionally.
He has been recognized in the community on various occasions by the Triangle Business Journal for CEO of the Year, 40 under 40 and Fast 50. The Roses' philanthropic endeavors have also earned Rosewood recognition as a Top Philanthropic Company in the RTP by the Triangle Business Journal on numerous occasions.
"At Rosewood Family of Companies and in my and Meredith's family, we want to see philanthropy in action," Chandler Rose said at the center dedication. "What better place to see blessings multiply than in a college freshman.
"When we consider the [return] from investing in the dreams of students, we imagine the exponential impact of these young students blessing others throughout their lives."
With the support of the Rose family, the Rose Center for Peer Mentorship will grow in intentional ways. Every Campbell Business student will be impacted by a peer mentor, building enhanced community and offering encouragement as students find places to belong and reassurance to become.
"Thanks to the resources and support of the Roses, we can make an even greater impact on students and our community," said Renee Green, program director. "Not only do I love to see the effect these mentors have on their mentees, it's also inspiring to watch the growth of the peer mentors as well. Through guiding others, they often become more confident in their own calling and leadership."
Future enhancements for the Rose Center for Peer Mentorship will include expansion of student leadership across the spectrum of Campbell Business' programs and majors and will further engage alumni in the process. The framework is now in place to fully enhance the leadership culture within the school in relevant and distinctive ways.
"We are truly excited and proud to establish the Rose Center for Peer Mentorship," said School of Business Dean Kevin O'Mara. "It is very rare that a program can impact every single student in a business school in such a memorable way and at such an early stage in a student's college career. The Center will impact, influence, and develop students as mentees and mentors."
To read our other Penmarc Inspired Spaces blogs, be sure to click the link below!